Her AUSTENTATIOUS is going to be released on January 31st (see countdown widget in the sidebar on the right) in the USA and today Alyssa Goodnight is here to meet us at My Jane Austen Book Club. She's going to share her favourite Austen quotes. We expect lots of others from you. Choose your best favourite and write it in your comment. Don't forget your e-mail address to enter the giveaway contest of a signed paperback copy of AUSTENTATIOUS! The giveaway is open internationally and ends on January 31st when the book is out! And now, enjoy Alyssa's guestpost!
We are all familiar with the famous first line of Jane Austen's
Pride & Prejudice
: "
It is a truth universally acknowleged, that a single man, in possession of a good fortune must be in want of a wife."
It has been quoted, tweaked, reused, and generally adored by Jane Austen fans everywhere. For good reason. In that one sentence, an important theme of the book is established, as is Ms. Austen's rather cheeky brand of eloquence, wit, and sarcasm. It defines for us, so perfectly, our beloved
Pride & Prejudice
. But this one exquisite quote does not, by any means, stand on its own as a measure of the wit of Jane Austen. There are a plethora of utterly quotable quotes from Jane's six published novels, not to mention her letters and diaries. And the majority of them still have relevance today.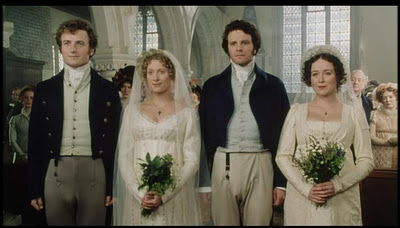 My novel
AUSTENTATIOUS
is not a retelling of any of Austen's works, nor is it a sequel. It is a contemporary spin-off, imagining that Jane Austen's spunky spirit remains (not so difficult to believe, is it?), and that she isn't quite done with match-making yet. The story revolves around a magical journal that simply can't keep its opinions to itself. As the story progresses and the interactions between the protagonist, Nicola, and the journal start to escalate, Fairy Jane moves beyond the confines of the journal to affect other aspects of Nicola's life.
For instance, she starts to mess with the Jane Austen Quote-A-Day calendar sitting on the kitchen counter. Rather than let pass an opportunity to make her point, and possibly influence her 'charge,' Fairy Jane switches things up a bit, magically altering the daily quote to fit her purposes. And they do--fit her purposes (and mine), that is. Jane's wisdom continues to be relevant two hundred years later.
Right after Nicola discovers the journal and its evidently magical properties (which she doesn't yet believe in), she glances at the calendar to find:
"Sense will always have attractions for me." Sense and Sensibility
When her journal hints that she'll be meeting someone new, the calendar reads,
"Something must and will happen to throw a hero in her way." Northanger Abbey
When she's fighting against the impossibility of it all, she gets,
"Silly things do cease to be silly if they are done by sensible people in an impudent way." Emma
And when she persists in being close-minded about her magical journal with resident literary darling, she gets,
"Better be without sense than misapply it as you do." Emma
(which just happens to be one of my absolute favorites...)
These are just a few of several, and I have to admit, I had the best time rummaging through Jane's writings to find the most sensible, witty, relevant quotes. Perhaps not surprisingly, given what we know of Jane, there are an extraordinary number of snippets to be had in the collection of her writings. Including them in AUSTENTATIOUS, via the Quote-A-Day calendar, made her spirit come alive even more, particularly as Nicola is such a Jane Austen fan and already very familiar Jane's style and flair. I think the quotes help make an arguably unbelievable situation easier to accept and more fun too. I hope you agree!


What about you? Do you have a favorite Austen quote? Please share!
Alyssa Goodnight
The Book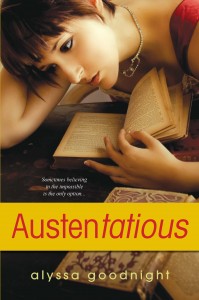 What happens when an eighteenth century literary darling magically pops up in the weirdest city in Texas? Magic and weird collide in AUSTENTATIOUS, the story of Nicola James, a left-brainer with a Jane Austen obsession and a carefully finessed life plan. A plan that doesn't include an enchanted journal or an interfering fairy godmother, who just might be the spirit of Jane Austen herself.
When Nicola discovers her journal entries mysteriously whittled down to a cheeky bit of commentary on her life, she's freaked first, skeptical second, and finally downright curious. She can't help but keep writing, dueling really, with a two-dimensional fairy godmother she doesn't totally believe in. Soon, the witty little notes start coming true, screwing with her plans, her head, and her life, and nudging her towards an impossible—and impossibly seductive—romance with a man who's inarguably wrong for her. Nicola's torn, trapped between a life that makes sense and a man who doesn't, with "Fairy Jane" wedged in the middle, relentlessly rooting for another "Mr. Darcy".
The Author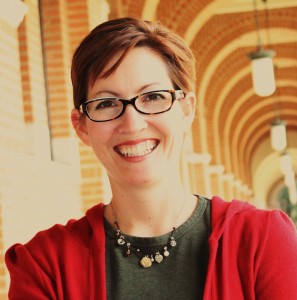 Alyssa has lived in Austin, Texas, graduated from the University of Texas at Austin, worked in the semiconductor industry (just like Nicola), and experienced the weird. She has not owned a magical journal or ever bandied words with the spirit of Jane Austen, but she's relish the opportunity! She currently lives between Houston and Galveston with her husband, two sons, and their adventure dog, Indiana Jones. She does her writing with an ice-cold can of Dr. Pepper and her reading with cake whenever possible. She is dutifully working on her next novel while dreaming of the day that she finds herself conscripted into a flash mob dance. (This just happened!!
You can watch on her blog
!)